Júri 2023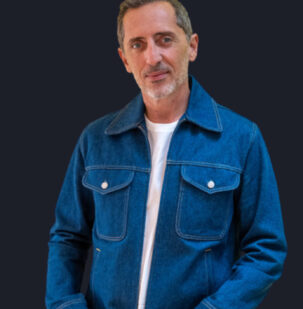 Gad Elmaleh
Presidente do júri
Gad Elmaleh was born on 19 April 1971 in Casablanca, Morocco.
At the age of 17, he left Morocco for Canada and worked in Montreal for radio, television and in theatres.
In 1992, he moved to Paris where he was selected for the Class Libre programme at the Cours Florent, which he pursued for three years.
In 1994 – 1995, he wrote his first one-man show, "Décalages". This was a huge sucess, making him well-known (giving him recognition in the public).
He also pursued a film career starring in Merzak Allouache's Salut Cousin in 1995. Yet it was with his second show, "La vie normale", directed by Isabelle Nanty, that Gad became significantly famous, selling out in theatres across the country.
In 2003, with the support of Merzak Allouache, he adapted the adventures of one of his favourite characters for the screen: Chouchou. The film was a success, with over 4 million tickets sold. He then follows with Olé, alongside Gérard Depardieu, plays the lead role in Hors de prix by Pierre Salvadori alongside Audrey Tautou, and portrays "Pignon" in La doublure by Francis Veber.
In 2004 and 2005, he was Master of Ceremonies for the 29th and 30th César Awards, and in 2006 Gad was appointed Chevalier de l'Ordre des Arts et des Lettres.
He regained success with the one-man show "L'autre, c'est moi", directed by himself, and went on an international tour, playing in London, Miami, New York, Los Angeles and Montreal, making him the first French-speaking comedian to tour the United States.
In the spring of 2007, Gad finished writing his new show "Papa est en haut" which he spent a year polishing in small, intimate venues. He then embarked on a major tour of 60 dates in the provinces, then played at the Olympia for 7 weeks, to a full house. In 2008, he also performed "Papa est en haut" at the Palais des Sports for 7 weeks to a sold-out audience.
At the same time, Gad wrote and produced his first film COCO in which he played the lead role. Coco, a character inspired by one of his onstage characters, is a flamboyant and megalomaniacal billionaire who wants to organise an extraordinary bar-mitzvah for his son.
In March 2009, Gad fulfills a big dream: he leaves for Los Angeles to shoot under the direction of Steven Spielberg in Tintin, alongside Daniel Craig and Jamie Bell.
In 2010, Gad repeatedly performed "Papa est en haut" with a tour of 70 dates in the provinces and 7 weeks at the Palais des Sports from 3 March to 24 April 2010. He also reappeared as the Master of ceremony for the 35th César Awards alongside Valerie Lemercier, in the same year.
In 2011 he shot Un Bonheur n'arrive Jamais Seul with Sophie Marceau and Les Seigneurs by Olivier Dahan with Omar Sy, Franck Dubosc, Ramzy Bedia, José Garcia and JoeyStarr.
Later in 2012, he starred in the film Le Capital by Costa Gavras. That same year he starred in Michel Gondry's "L'écume des jours" alongside Romain Duris, Audrey Tautou, and Omar Sy, which was released in 2013.
By late 2012 and early 2013, Gad began writing a new show, later known as "Sans Tambour" which premiered in Paris in June 2013 for 30 sold-out performances.
In 2014 Gad celebrated his 20 years onstage with a show played 20 times at the Palais des Sports in Paris. The show 20 ans de scène is an adaptation of Sans Tambour featuring the return of Chouchou on stage.
In September 2015 the show "Oh My Gad" was created at Joe's Pub in New York, this show which was 100% in English was a new milestone in Gad's career.
After more than 70 sold-out shows in the United States between September 2015 and June 2016, he started a tour in France, Belgium, and Switzerland with Kev Adams for the show "Tout Est Possible". This show had an audience of almost 300,000 spectators in 39 performances from October to December 2016.
In January 2017 Gad resumed the "Oh My Gad" tour in the United States which ended in December 2018 with the world tour "The Dream Tour" which included stops in Berlin, Oslo, Copenhagen, London, NYC, Los Angeles, Miami, Amsterdam, Singapore, Shanghai, Hong Kong, and Dubai.
ln April 2018 his first Netflix series Huge in France was released on the platform.
By 2020, Gad began touring his 7th solo show in French, "D'Ailleurs", which had over 500,000 spectators in 110 sold-out shows, including 20 exceptional shows at the Dome de Paris (formerly the Palais des Sports).
In 2022, Gad directed and starred in Reste un Peu, a very intimate and critically acclaimed film that was released on November 16, 2022.