Júri 2023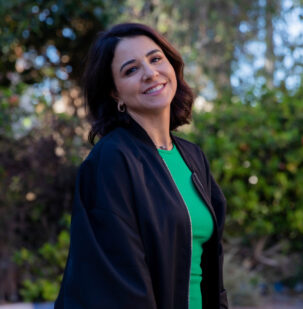 Samia Akarriou
Samia Akarriou is an actress, scriptwriter and director.
Born in a town very dear to all Moroccans, she did her primary and secondary studies in Chefchaouen. She then joined the Institut Supérieur d'Art Dramatique et d'Animation Culturelle in Rabat (ISADAC), and later, the prestigious Conservatoire National d'Art Dramatique de Paris (CNAD) where she obtained her diploma in acting in 1995. She then pursued her studies in Paris and obtained her Master's degree in Theatre Studies at the University of Paris III in 1997. In 2019 she obtained her Master's degree in "Aesthetic Education and Management of Art and Culture Professions" at the Mohamed V University of Rabat – Faculty of Education Sciences.
As an actress, she has performed in 8 plays, 10 television series and 6 films and has directed two plays: "Bnat Lalla Mennana in 2005" and "Hennet Yeddina in 2007".
Her roles in the film "Lala Hobby" by Med Abderrahman Tazi in 1996 and in the television series "Bnat Lalla Mennana" contributed to her popularity in the Moroccan audience. The series in which she was involved in writing, spanned two seasons in two years, lasting for two years, in 2012 and in 2013.
As a director, she began her career by co-directing the series "Sir El marjane" for the first season in 2016 and the second season in 2017, where she was also a co-writer. She then directed her first teleplay "Laati Llah " a comedy adapted from the play " l'Avare " by Molière in 2017. In 2020, she directed her second teleplay " Cherif Moul Baraka " another comedy adapted from " Tartuffe " by Molière. She co-wrote in 2019 and 2020 the successful series "Yakout and Anbar" and the series "Bab El bhar". In 2021 she directed and co-wrote her first comedy series "Moula Nouba".