لجنة التحكيم 2023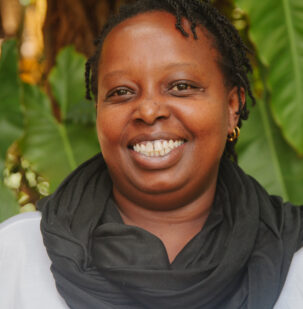 Fibby Kiora
Fibby Kioria is an accomplished producer, with over thirty short films, both fiction and documentary and one web series that are the result of the film labs with filmmakers on the African continent.
In 2018, she co-founded Manyatta Screenings with Hawa Essuman, an online and outdoor short film screenings program in Kenya focusing on content from greater eastern Africa. Manyatta Screenings is also a partner on the Cinema Spaces Network (CSN).
Currently, she is the Consultant ,Local Coordinator and project Manager for the DW Akademie Film Development Fund in the Eastern African region.
Between 2013 up until January 31, 2021, she was the Program Director of Maisha Film Lab., a leadership development organization founded by Mira Nair to empower visionary filmmakers Africa by giving them the tools to tell their own stories through film.
She produced the American Masterclass edition on Mira Nair, Line Produced the Mira Nair & Zippy Kimundu short documentary commissioned by TRIBECA on the portrait of Robert Katende's life A Fork A Spoon and A Knight . She also produced the music video for the song '# 1 Spice' from Disney's 'Queen of Katwe' soundtrack. Fibby is a 'Berlinale Talent Campus' alumni, 'Torino Film Lab' alumni and a' Follow The Nile' alumni.
Fibby is a founding member of the East African Screen Collective (EASC), a coalition of companies and organizations advocating for narrative sovereignty in the screen-based sectors (TV, film and digital) in Eastern Africa.
She is also an Associate Producer for the Sembene Across Africa film-screening program.