لجنة التحكيم 2023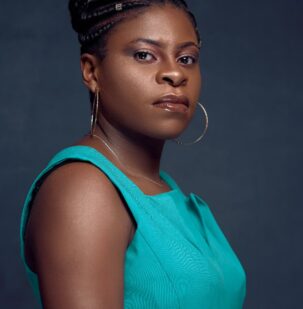 Françoise Ellong-Gomez
Cameroonian-Beninese-French screenwriter, dialogue writer and director, Françoise Ellong-Gomez is known for W.A.K.A (2013) and Buried (2020).
Born in 1988 in Douala, Cameroon, the Beninese-Cameroonian-French screenwriter and director Françoise Ellong-Gomez moved to her uncle's house in the town of Brunoy, France, at the age of eleven where she began to write her first stories. Later at the age of fifteen until adulthood, she participated in the Prix du Jeune Écrivain de Langue Française where the jury, impressed, congratulated her for her short story Diary of a Murderer and encouraged her to explore screenwriting as an interest.
From age eighteen to present, Françoise Ellong-Gomez writes and directs nine award-winning short films, signs as a director for 10 episodes of the daily soap opera Le Futur Est A Nous original creation Canal+, teaches screenwriting in two schools in Yaoundé and directs the film W.A.K.A (2013) which plays in about thirty countries and wins seven international awards.
In 2016, she created the blog "Le Film Camerounais" with the aim of promoting the Cameroonian know-how and its diaspora in the field of cinema. Later, she acted as the promoter for the annual awards ceremony "Le Film Camerounais Awards" aka "LFC Awards" which was launched in 2018.
With Buried (2020), Françoise Ellong-Gomez directed a second feature film which has already won several awards. She is currently working on her next film as well as feature film projects, and producing an upcoming series.